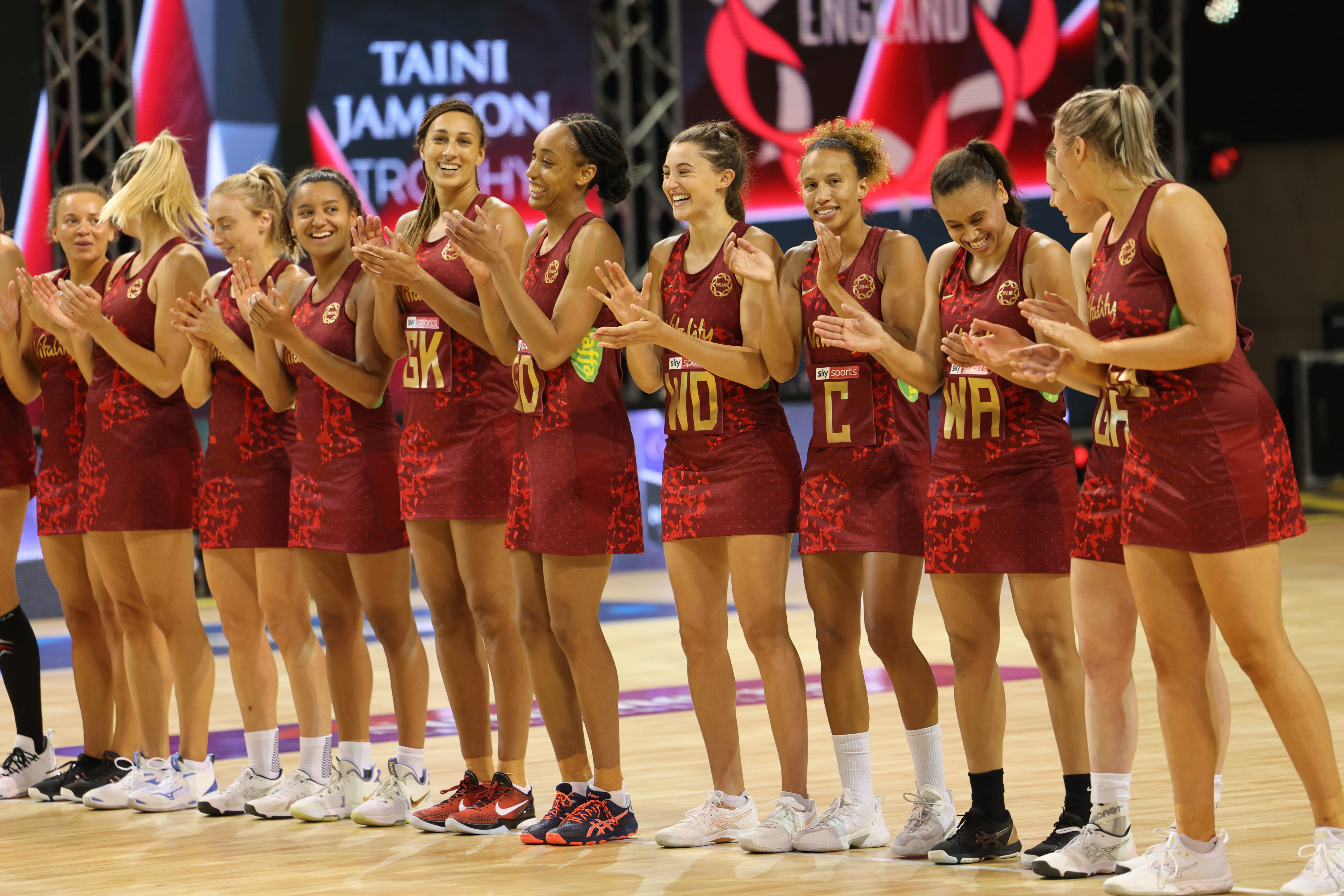 The Vitality Roses got the Cadbury Netball Series with the New Zealand Silver Ferns underway with a six-goal defeat in Christchurch on Monday morning.
England kept the world champions at arm's length for the majority of the encounter and were level with 10 minutes to play. New Zealand, however, proved too strong and eventually won 48-42.
Jess Thirlby's side will next take on the Silver Ferns at 08:30 on Wednesday 22 September live on Sky Sports.
England were playing their first game since January and their first match against international opposition since they last faced the Silver Ferns in October 2020.
After a fortnight in quarantine, captain Serena Guthrie got the game underway with the first centre pass but the home side immediately intercepted which led to the opening goal for Tiana Metuarau.
The hosts soon went two goals up but the Vitality Roses responded impressively and scored three on the bounce. 
Manchester Thunder duo Laura Malcolm and Eleanor Cardwell combined well to secure England's first goal of the series. Geva Mentor then provided a turnover under the post before Malcolm once again assisted Cardwell. Sophie Drakeford-Lewis added a third shortly after.
This young New Zealand team were up for a battle on home soil and were not going to take going behind lightly. It was back-and-forth for the rest of the first quarter with Layla Guscoth continually restricting the team in black. 
At the end of the first 15 minutes in Christchurch, the teams found themselves separated by just one goal with New Zealand working a 12-11 advantage. 
The 2019 Vitality World Cup winners came out firing after the break with Maia Wilson netting the first goal of the second quarter. 
England found it difficult to find their goal shooter due to the pressure implemented by the Silver Ferns defenders. Kelly Jury in particular was helping to stop Drakeford-Lewis' balls into the circle.
Metuarau, 20, continued to impress against a stacked defensive partnership of Mentor and Guscoth. She sank some long bombs in quarter two and also contributed with a couple of turnovers. 
After scoring just four goals in 10 minutes, Head Coach Jess Thirlby brought goal shooter George Fisher on for Drakeford-Lewis and switched Cardwell to goal attack. 
Fisher, who plays her club netball for Southern Steel in New Zealand, made an instant impact and scored after just a minute on court. Malcolm then won the ball before setting up Cardwell for England's second in a row.
The Vitality Roses' mid-quarters were keen to capitalise on this momentum. Guthrie and Malcolm made two intercepts in quick succession which were put away by Cardwell and Fisher respectively. 
They were the last goals of the first-half and helped the visitors reduce the deficit before the interval. It was 26-21 to New Zealand at half-time.
Substitute Imogen Allison came on for Beth Cobden in the second half. The Silver Ferns, meanwhile, brought on Claire Kersten for Sam Winders at centre and Sulu Fitzpatrick for Karin Burger at goal keeper. 
Thirlby's side came out fighting in the all-important third quarter and impressed as they fought to claw back level. Mentor's defensive rebound after two minutes certainly helped and, such was the speed of England's transition, Fisher put the ball away seconds later. 
In fact, Mentor and Fisher continued to bookend some of England's best moves of the third quarter and helped their team get within three. This three-goal difference was maintained for the majority of the third quarter. 
A last-second goal from Metuarau, however, ensured that Noeline Taurua's side would go into the final quarter with what seemed a comfortable advantage over their opponents. 
England - who only ever got within six goals of in their three games against New Zealand in 2020 - would have been happy with their performance thus far and knew a strong final quarter could see them secure a victory. 
Mentor started by winning the ball which led to Fisher sinking the first goal of quarter four. Allison won an intercept herself which England capitalised on. The difference was now just two.
The Vitality Roses were rampant and scored three unanswered goals in just two fourth quarter minutes when Cardwell's long bomb found the net. They had pegged back New Zealand to just a one-goal advantage. 
The umpire punished New Zealand for a held ball and great work in a congested circle meant that Fisher was given the opportunity to bring England level for the first time since the first quarter, which she did with ease. 38-38.
Going level seemed to provide a wake-up call for a stunned New Zealand and quickly went ahead by two with nine minutes left to play. Burger provided an all-important intercept which sparked a run which resulted in a five-goal lead. 
After a fast start, England struggled to get a foothold in the final quarter and scored just twice in the final six minutes. Fisher scored their final goal of the game but it was not enough as the Silver Ferns secured a six-goal win.