All across the country, ladies have been taking to the court again with the help of Walking Netball.
Since their gentle re-introduction to the sport, and in some cases first taste of the sport all together, we've been learning all about our participants.
We've found out where some of our ladies heard about Walking Netball, their personal stories, why they started playing and why they love it!
Find out why YOU should walk on sunshine this summer and beyond!
Val and Sylv's stories…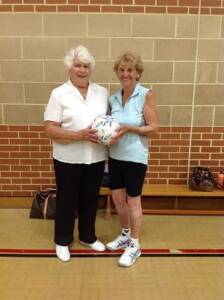 First we'll hear from Val and Sylv who both used to play county netball for Wiltshire. Val is also a former Wiltshire Senior Coach and Intermediate Umpire.
We asked them why they enjoy Walking Netball – here's what they had to say…
Sylv –
"Netball has been a large part of my life as I started playing as an 11 year old and it's great to be able to play again.
"I really like playing with people that I used to play against – it's fun and I love the social side."
Val –
"I enjoy the socialising, meeting up with players that I used to play against. It's great fun and relaxes all the tension!"
We hear from Jackie, Jo, Marcia, Linda and Sheila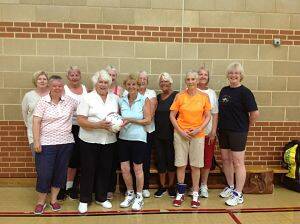 Even though the temperature was a whopping 30 degrees outside, this group of ladies turned up to their session last week full of enthusiasm.
They told us how they got in to Walking Netball and why they love it so much.
Jackie works from home and is the primary carer for her disabled husband. She took up Walking Netball after seeing sessions advertised in a local GP surgery!
Jackie told us why she loves the sessions:
"It's so great to meet new people whilst exercising and such a release to get out."
Jo saw the Walking Netball sessions advertised in her local GP surgery. She told us:
"I've met a lot of new friends. It's good exercise and I've lost weight."
Marcia was referred to the Walking Netball sessions by staff at a diabetic clinic.
She said:
"It's fun and good exercise."
Linda told us she loves ALL aspects of being involved in Walking Netball:
"I enjoy the socialising. It's good for fitness and I've always enjoyed ball games!"
Sheila was involved in the first Walking Netball trial in Swindon in July of last year and now plays on Tuesdays, Wednesdays, Thursdays AND Fridays every week…
She's really caught the Walking Netball bug!
Sheila says:
"I love the exercise, socialising, playing with people I used to play against and also having a laugh!"
Maureen and Fran's stories…
Maureen has a number of medical problems, including Chronic Obstructive Pulmonary Disorder, Type 1 Diabetes and coeliac disease.
During Maureen's first week at Walking Netball she was very nervous and was apprehensive about taking part.
Maureen spent the majority of the time during the first session watching from the side line.
She now manages to take part for the full hour and is even considering asking her husband to put a post in their garden so that she can practise her shooting!
We asked Maureen why she loves Walking Netball. Here's what she said:
"I've never played netball before so thought I'd give it a try.
"It's a good form of exercise and I work hard without realising it. It's fun – I've met new people and love the coffee and chat afterwards!"
Fran has also been plagued with medical problems of her own – she had pleurisy in October 2014 followed by breast cancer surgery in August 2015.
Since the operation, she has been struggling with her shoulders and has been having physiotherapy treatment on them.
Fran is amazed that after playing Walking Netball for five weeks, she can now lift both of her arms above head height!
We also asked Fran why she loves taking part in Walking Netball. Here's her response:
"It's given me my confidence back. I've met a lot of new people and enjoy socialising with them after the session.
"As well as the improvement in my shoulders, my posture and co-ordination has improved. It's great fun."
So there you have it! Ladies from all walks of life, all levels of experience, age and purpose are LOVING Walking Netball for their own reasons.
Take a look at our Netball Finder HERE and locate a session near you this #BigSummerofNetball.