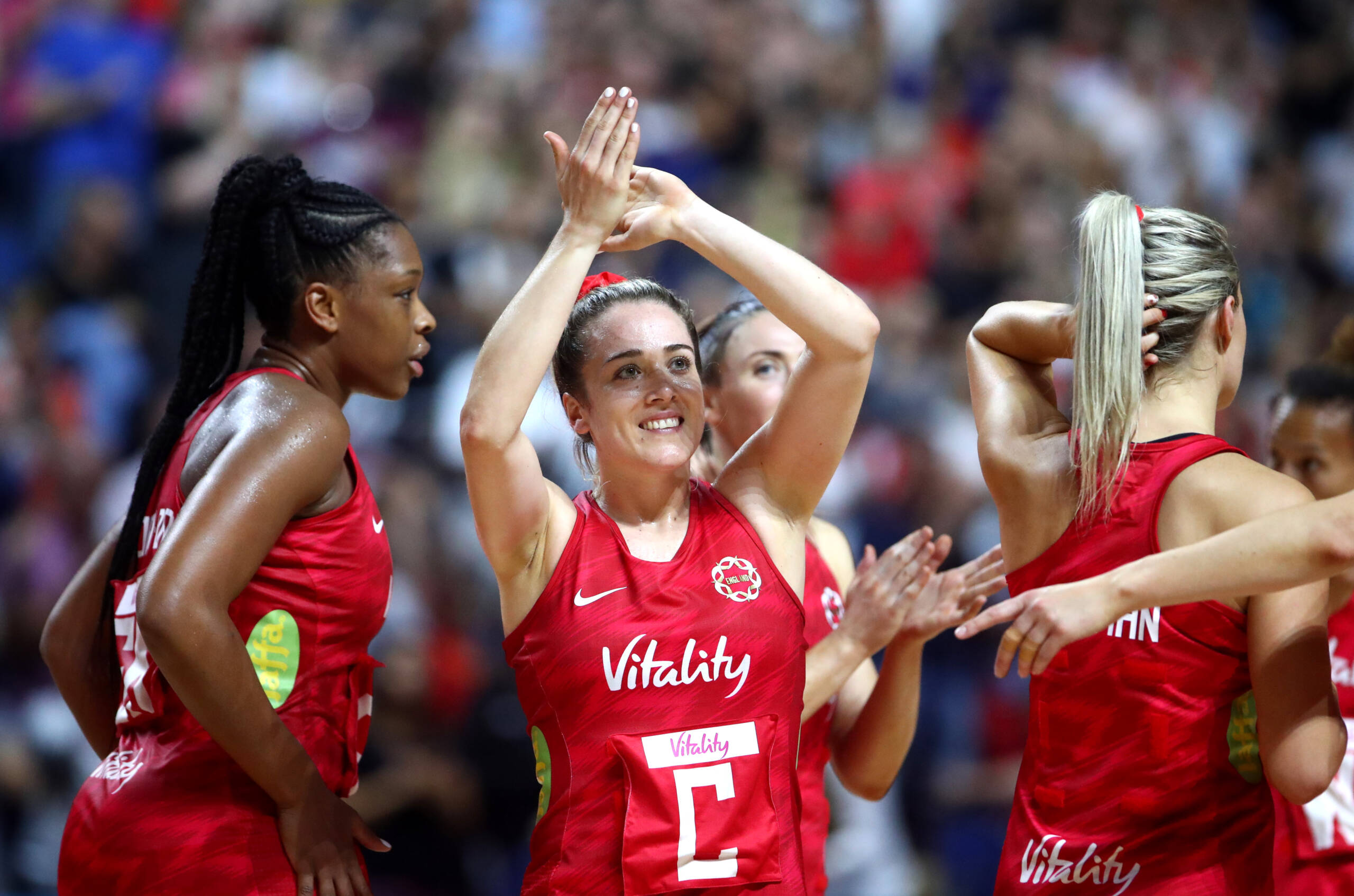 Today (27/12/20), we celebrate the birthday of Natalie Panagarry as the Vitality Rose mid-courter turns 30!
In doing so, we look upon an athlete who has enjoyed a meteoric rise to the Vitality Roses squad since her return to the sport five years ago.
After years working and travelling, Nat returned to the sport during Loughborough Lightning's preparations for the 2016 Vitality Netball Superleague (VNSL) season.
Following a successful season back on court, she quickly made her Vitality Roses debut against Australia. Shortly after, she was made club captain at Lightning.
Her rapid rise was rewarded in 2019 when she was selected for her first major international tournament; the Vitality Netball World Cup 2019 in Liverpool. The selection demonstrated her talent, determination and adaptation having had to learn a new position.
"2019 was a whirlwind year! At this point in 2018, we were going into the international season and I felt I was always getting picked for the squads but not getting as much court time or was a training partner. Over the four year cycle, I was in and out of the squads quite a lot," she said on Virtual Netball Club show Netball Natter
"I remember thinking in January 2019 that I had to throw myself into Loughborough Lightning and I had one of my best seasons in the Superleague so far. I normally play a lot of centre and Sara [Bayman] asked me to play wing defence so it was nerve-wracking at the age of 27 trying to learn a different position. It turned out to be the best thing I've done as it changed my whole career.
"To get that phone call from Tracey [Neville] telling me I'd made the Netball World Cup squad was crazy! I was crying, I thought she was joking around at first. She has been involved in my career and, having known her for such a long time, it couldn't have been anyone better to take me to my first major tournament."
Words can't actually describe this feeling !!! Bursting with Pride & Truly Honoured to get selected for the World Cup ❤️❤️ Literally living my Childhood Dream!! Can't wait to step out in Liverpool, on home soil & take in the moment with this Amazing bunch of Ladies🌹🌹 #NWC2019 pic.twitter.com/CStNtWlvcB

— nataliepanagarry (@Npanagarry) May 23, 2019
The former Yorkshire Jets centre now has 17 caps for her country. She has also become one of the star names in the VNSL having led Lightning to two Grand Finals.
Furthermore, the aforementioned 2019 season saw her named in the All Star VII and nominated for the Vitality Player of the Year and the Fans' Player of the Year awards.
Although a foot injury in early 2020 and COVID-19 have slightly halted her on-court momentum, Nat never thought she would make it to her current level following her extended break. A phone call from former Lightning Head Coach and ex-England captain Karen Atkinson changed all that.
"Did I think I'd be playing for my country after my break? The honest answer is no. I had been away from netball for such a long time. Even before travelling, I had been working hard to save a bit of money. I always thought I would become a PE teacher and that would be my direction with netball.
"It was nearly three years [since I played properly] and I got the call from Karen Atkinson asking if I wanted to play in the VNSL and if I was interested in moving to Loughborough. I had no idea what I was going to do! They had an unbelievable job role in the community for me at the time which was a massive draw. It was also Karen, who is one of my absolute idols, who made the phone call."
The 30-year-old turned up to a training session to shake off any rustiness before emerging as a key player for England and for Lightning.
Nat had plenty of senior players to learn from in a talented Lightning side which included current England teammate Jade Clarke. Heading straight into competitive training with these high-profile internationals, she said, allowed her to thrive.
"I remember going down to a training session with my mum to see where I was at. I said: 'Karen, I don't even know if I can catch. I've been on a beach for a year!'. It was probably one of the worst sessions I've ever done. I remember getting in the car and I just had to laugh.
"It was such a good squad to learn from because of the number of amazing athletes that were there. I was learning from Sasha Corbin, Jade Clarke, Jo Trip and Ama Agbeze. Looking back, getting thrown into training with those guys was the hardest it was going to ever be. I thrived so much from it and, after that year, I thought it was something I could still do.
"Tracey then set up the full-time programme and I got in the year after. It just spiralled and I was loving every second of it. Before you know it, you're at a Netball World Cup four years later! I have always truly appreciated the journey I've been on."
Now 30, Nat shows no signs of slowing down and still has netball at the forefront of her thoughts.
In fact, the centre / wing defence is planning to keep the sport at the core of what she does post retirement.
When asked on Virtual Netball Club show Netball Natter what her plans were for the next five years, she said:
"I hope the body keeps ticking over and I'll see how far I can push it. I'll hopefully be playing some form of netball; if it's not at international level then at VNSL level. Hopefully, I'll get to keep giving back to the sport that way.
"I'm looking into what the future would look like without netball. Maybe I'd go into a PE teacher role and use my degree that way or be involved in coaching a VNSL club.
"I'm taking this time to look at what my future will look like and what community I'll get involved in. I definitely want to stay around the sport and want to give back to the sport."
Why not wish Nat a happy birthday on her Twitter or Instagram profile?
Follow England Netball on Facebook, Instagram, Twitter and YouTube for the latest news and content.