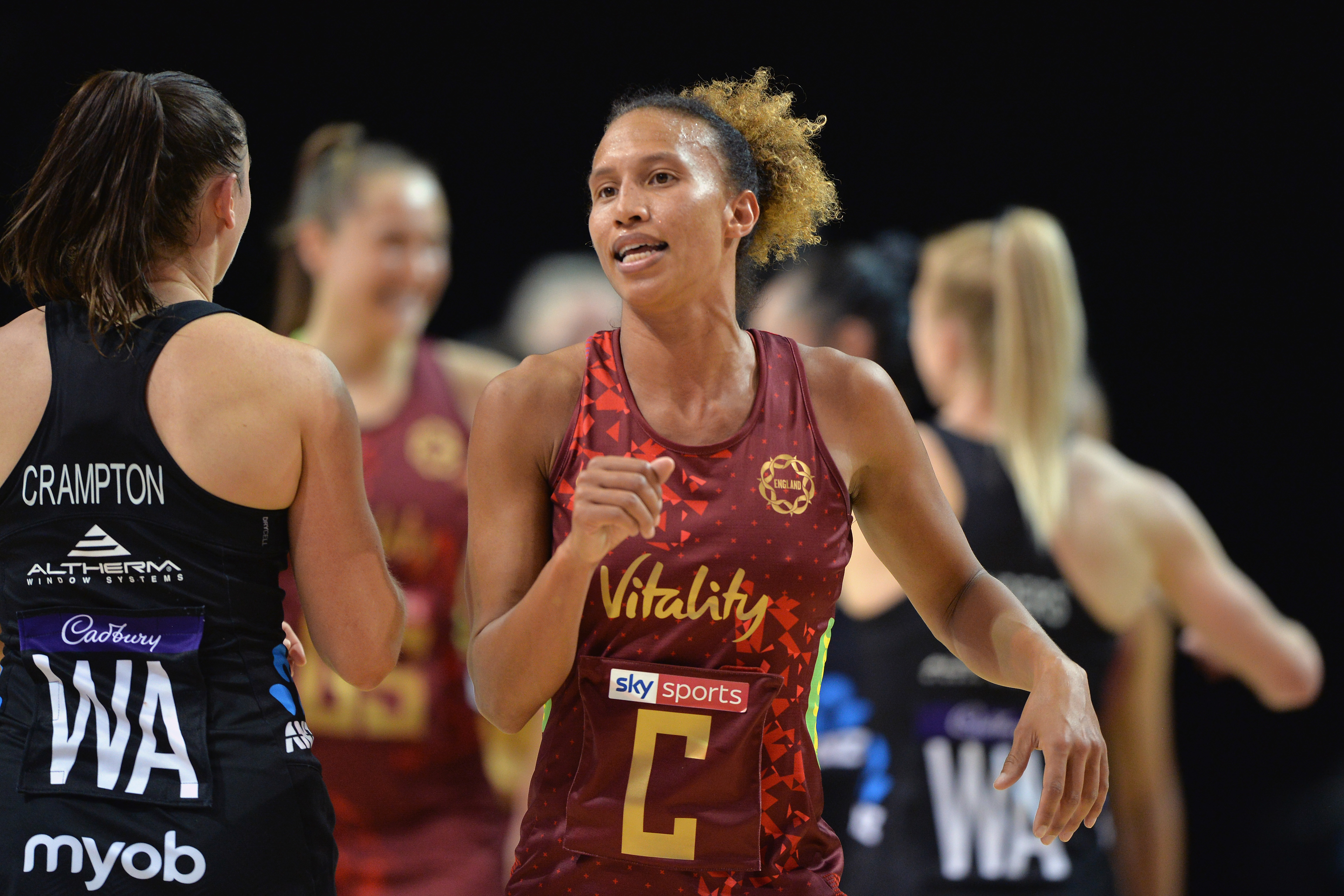 Vitality Roses Head Coach Jess Thirlby and captain Serena Guthrie react to defeat to the New Zealand Silver Ferns in the opening match of the 2021 Cadbury Netball Series.
England lost by six goals against the Silver Ferns in Christchurch on Monday morning but put in a fine display against the world champions, drawing level with just 10 minutes to go.
The squad will go again on Wednesday morning but not before they have reflected on a marginal loss. Thirlby and Guthrie gave their opinions on Sky Sports.
Serena Guthrie celebrated her 100th cap the last time these two faced off in October 2020. The closest England got to their opponents last year was six goals, a tally they matched on Monday morning.
The Vitality Roses took a young side to New Zealand in 2020 and Guthrie believes they are already reaping the rewards of blooding the young guns.
"Last time we were blooding in some of our younger players and our more inexperienced players, and they've definitely benefited from that experience today," she said.
"I think Imogen Allison had a fantastic game. She came in really seamlessly into wing defence. We've got Layla [Guscoth], Beth [Cobden] and Geva [Mentor] out the back who's not played for two years, so there's so many positives.
"There's obviously an undercurrent of disappointment within that performance because we're getting enough ball but we're throwing too much away so we know we can win the games but we have to go out there and prove it."
England started the game strongly and were down by just one goal at the end of the first quarter. New Zealand began to stamp their authority on the game following the first interval but the Vitlaity Roses battled hard and levelled things at 38-38 with less than 10 minutes to go.
It was an impressive comeback for the visitors who looked excellent when goal shooter George Fisher entered the game. Guthrie was pleased by the competitiveness and spirit her squad showed in the opening game.
"It was a bit of a slog in that second half trying to bring that score line back, but we did some great stuff out there. It's so good to get the team back together, and it was a close one," she said.
"That's what these games are about, we want to win but it's about actually being able to compete, and I'm really pleased with the way the girls did compete at times, but we've got some work to do. We've got to tidy up on some of our forced errors come Wednesday."
The Vitality Roses next take on their opponents on Wednesday and will be hoping to draw the series level to give them a chance of winning the Taini Jamison Trophy.
The games are coming thick and fast for England, who are playing their first match against international opposition since they were last in New Zealand back in October.
Head Coach Thirlby was glad to see her players back on an international court and saw plenty to be positive about as well as highlighting areas of improvement.
"Firstly, loved being back out on an international court it was excellent to just watch the girls really compete with the Silver Ferns," she said.
"I thought we were caught chasing the game a little bit early on but we were able to fight back in the second half both physically and mentally, which I thought was great given they threw some of their big guns out in that second half.
"I thought we competed well and pushed them right to the end, but the wheels fell off a little bit again in that last couple of minutes. Players came off the bench and they had a really positive impact, though. I was really pleased with George Fisher New Zealand knows well from this last year. Imogen Allison came on and had an impact, and I thought the inter change with Jade [Clarke] was great and in long periods I felt defensively we were able to tie them up.
"I didn't think it was necessarily a comfortable game for the Silver Ferns but ultimately, we just need to tidy up our possession game."
The Vitality Roses take on the New Zealand Silver Ferns on Wednesday with first centre pass at 08:30. You can watch the action live on Sky Sports.